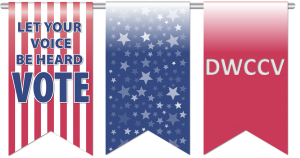 The Democratic Women's Council of the Conejo Valley was formed 14 years ago by a concerned group of Conejo Valley, California women who shared the shock and awe of Al Gore's devastating loss in the 2000 Presidential campaign, where he won the popular vote but lost the the electoral college vote to George W. Bush after a bitter legal battle over disputed vote counts in the state of Florida, where Bush's brother presided as Governor. The election was one of the most controversial in American history.
"We have to get involved," was the consensus of our small group at the time. "How do we gather enough progressive women together in our community – where it seems the majority are staunch conservatives?" "What is our mission?" "What is our method?"
Our first meeting – publicized in the local paper and by word of mouth – was at a popular restaruant in Westlake Village, and we were shocked that the place was packed with vibrant, outgoing, educated, accomplished, opinionated and talkative women!! Who knew there were this many Democratic Women in our town?
"We must keep this going!" we commiserated after the first meeting… "Let's meet each month for a Saturday morning brunch to enjoy topics by local experts and speakers, that resonate with our concerns and current events, and we can provide a safe space for all open-minded and progressive women to gather, find their voices and express themselves!"
Viola, the Democratic Women's Council of the Conejo Valley was born!
The focus of the group has segued from providing a venue, program and open forum for women to learn and exchange ideas, to actively supporting Democratic and progressive candidates, (not all elections are partisan!) – and for the last 5 years, raising funds to provide scholarships to graduating high school senior girls from the 5 public high schools in our valley as a focus on the FUTURE on local Democratic Women and securing a continuation of our fair and forward-thinking ideals.
If you are a Democratic woman, or an Independent with progressive ideals, and are curious and would like to visit our group one or two times – that's okay! You are welcome with open arms! We have a feeling when you get to know us and appreciate the small contribution we make (that speaks so loudly in our community), you're going to want to join us!
---
For more information and a pleasant chat, please contact:
President, Carol Keavney at President@ dwccv.org
We hope to see you soon!