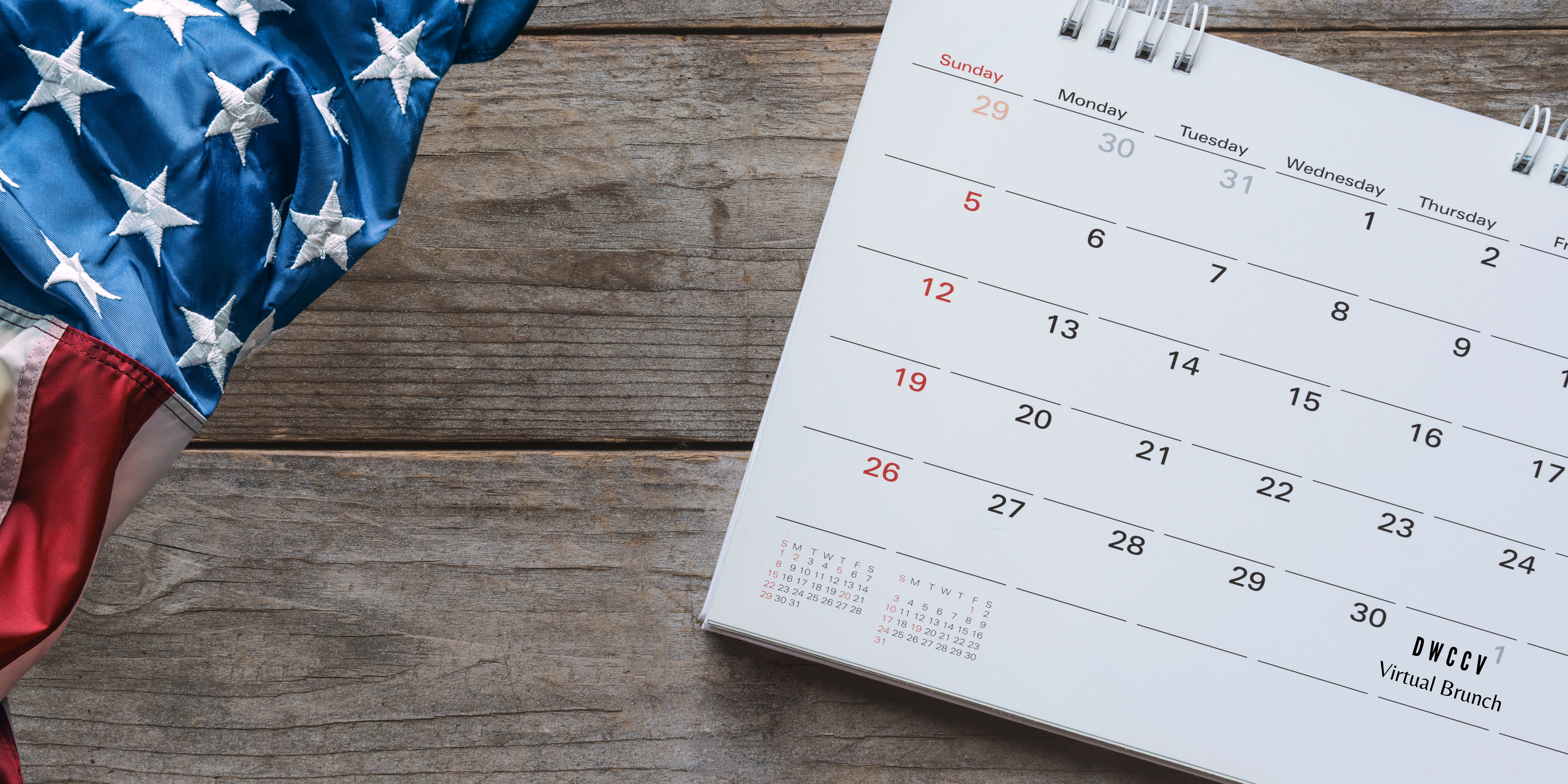 DWCCV Brunch Meeting – July 16, 2022

Monthly on the second or third Saturday
DWCCV's
In-Person Champagne Brunch Meeting
Informative, Enlightening, Educational News
from Democrats in Ventura & LA Counties
The Landing Grill and Sushi Bar
32123 W. Lindero Canyon Rd. Suite 109
Westlake Village, CA 91361
9:00 am – 11:00 am
Saturday, July 16, 2022
Submit Your RSVP:
---
June Primary Recap & Exploring Prospects for November; 'Conversations with the Candidates' for CVUSD on July 16
A veteran campaign strategist and candidates running to fill the three open seats on the Conejo Valley Unified School District (CVUSD) Board of Trustees will inform and answer questions during DWCCV's in-person champagne brunch meeting at Saturday, July 16, 9 to 11 AM. Because internet connectivity is unstable, the brunch meeting will be accessible only in person at The Landing Grill and Sushi Bar, 32123 Lindero Canyon Road, Suite 109, Westlake Village, CA.
June Primary Recap & November General Election with Patrick Donahoe
Patrick Donahoe is Principal/Co-Founder of Zero Week Solutions, an awarding political campaign organization.
A veteran of campaigns throughout the Southwest, Patrick has served as the lead strategist for a variety of local campaigns and political organizations. His work has been recognized by national and local groups, earning awards for voter registration and GOTV/Absentee Field Programs.
An expert in grassroots and grass-top organizing, Patrick has helped candidates navigate complicated endorsement processes and built progressive coalitions that have helped strengthen the bond between the Democratic Party and the Labor Movement. His GOTV work has earned mention in the New York Times.
---
Three Candidates Running to Fill Seats: Conejo Valley Unified School District Board of Trustees
While the CVUSD Board of Trustees is a non-partisan body, these candidates are registered Democrats. Two incumbents are running for re-election to a second term and one is running her first political campaign.
Goldberg Running for Re-Election in Area 4
Elected to the CVUSD Board of Education in 2018, Cindy Goldberg fulfills the honor by primarily focusing on the educational, and social/emotional needs of all students; supporting unique programs that provide a variety of opportunities for all students that also reduce barriers to success.
After serving many years as a development director in the entertainment industry and a development department manager at a private university, Cindy joined the Conejo Schools Foundation in 2007 as Executive Director, working with the independent 501(c)(3) nonprofit organization in its mission to support local public schools.
A UCLA graduate and an active member of the Thousand Oaks community, Cindy's prior election service included the School Site Council for her children's elementary, middle, and high schools. She also was a member of numerous District Committees including Budget Committee, Career Tech Ed Committee, Executive Board of DAC, GATE DAC and the inaugural EARThS PTA Executive Board. Cindy has been a longstanding member of the Greater Conejo Valley Chamber of Commerce's Education and Workforce Development Committee, the TOArts Advisory Committee, and her temple's Education Committee.
Cindy and her husband are the proud parents of three CVUSD graduates.
Education Tradition Continues in Gorback's Re-Election Run in Area 3
I was born and raised in Pittsburgh, PA, by a Mom, who owned and ran the restaurant started by her parents. Then she was a school teacher, who then went back to college and got her Masters in Psychology and became a school Psychologist. My Dad, who worked for Allegheny County, ran for the State Legislature. Any surprise I became a teacher from elementary, junior high and high school school counselor then ran for School Board?
Here by the unwavering support of my wife, Karen. We have four, now adult kids, who went through the Conejo Valley Unified District.
Social Worker Powell: Candidate for Area 2
Lisa Powell is a 17-year resident of Thousand Oaks. She and husband Tom have raised two sons in the Conejo Valley, with one now in college and the other at Thousand Oaks High School.
A Doctorate-level social worker and researcher for/with public schools, Lisa has a long history of community service, including appointments to the Community Funding Review Committee for the City of Thousand Oaks (formerly the Social Services Ad Hoc Committee) for most of the last 16 years. She also is the current Chair of the National Association of Social Workers, Ventura County.
Lisa is an advocate for supportive and inclusive public schools; her priorities focus on students, teachers and strengthening connections between schools and the community.
---
Door Prize
Each In-Person Brunch Meeting Attendee will receive
a ticket to win a lovely door prize.
RSVP & Save
Price for DWCCV's In-Person Brunch Meeting
$30 = Premier Members
$35 = General Members and Guests with Reservations
$40 = Walk-ins with no Reservations
Brunch meeting attendees can save on the admission price by making reservations.
Attendees may pay in advance with credit and debit cards or pay with cash or checks at the door.
Now, there are two options for making reservations:
RSVP online through ActBlue
Send an email message to demwomencv@gmail.com
---
Want to become a member of DWCCV?
Find out how you can join the Democratic Women's Council of the Conejo Valley, and qualify for special membership dues only available to New 2022 Members:
Beginning July 1 – September 30, DWCCV is offering a discounted price!
For information and important links, Click on the button below:
If you are ready to join now click on the below button:
Got Questions? Contact Call Sylvia (818-633-2288)
See Facebook: https://www.facebook.com/dwccv